BioStrand MedTech Entrepreneurship Story at TU Delft
Christophe Van Neste
09.28.2022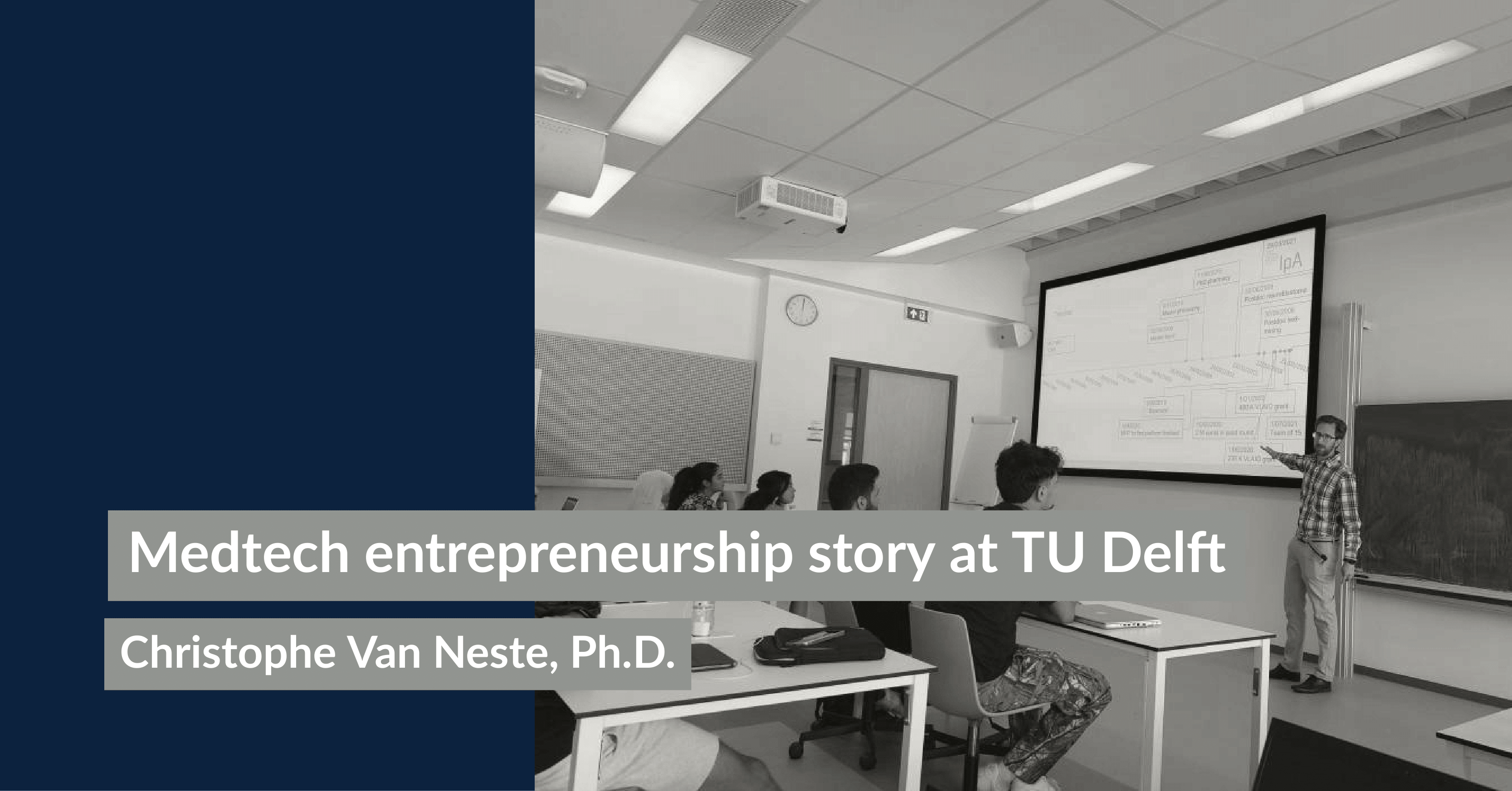 My name is Christophe Van Neste, Ph. D. and I am a bioinformatician and data scientist at BioStrand. Recently, I was contacted by my friend Peiter Vandekerckhove, who teaches the introductory course for the MedTech-based entrepreneurship minor program at TU Delft. He asked if I would be willing to step in as a guest lecturer to share my experiences working as a bioinformatician in a young startup company.
Introduction to MedTech Entrepreneurship
MedTech is a field with unique challenges because it requires the interdisciplinary work of many stakeholders including scientists, clinicians, data scientists, engineers, and of course, patients. Pieter's course within the MedTech-based entrepreneurship program is attended by students with a background in engineering from TU Delft, together with biomedical students from Leiden University, and health economy students from Rotterdam's Erasmus University. They are tasked to form an interdisciplinary team and work out a business case that could solve challenges faced by patients or health professionals.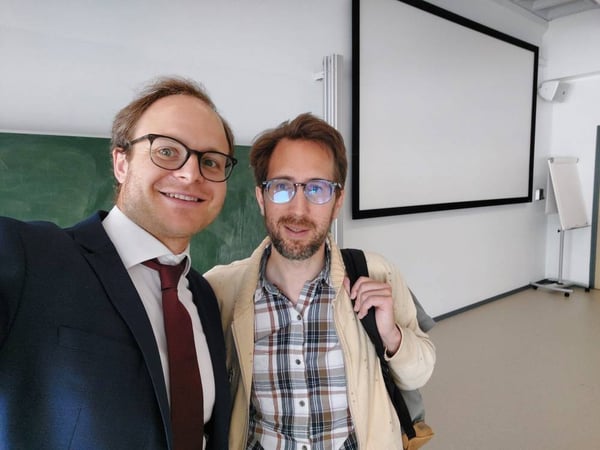 Pieter Vandekerckhove and Christophe Van Neste
The BioStrand Story
I started my presentation going over the company's history. BioStrand was founded in 2019 by clinicians Ingrid Brands, M.D., Ph.D. and Dirk Van Hyfte, M.D., Ph.D. Despite the founder's medical background, the initial focus was on the intersection between tech, bioinformatics, artificial intelligence (AI), biotech, and medicine. This year, in April 2022, Biostrand was acquired by IPA. Still, the value proposition of the company remains the same, encompassing both the MedTech and BioTech industries. In short, in today's biomedical research environment, there is an ever-growing amount of data, very diverse in nature and seemingly too complex to decode. Concurrently, within the MedTech industries we see a shift from evidence-based medicine to data-driven medicine, creating the urgent need for powerful systems that can integrate and analyze these massive pools of data.
At BioStrand we see it as our mission to unite both the evidence-based and data-driven approach by connecting all the different data silos, structuring the data, and making them instantaneously actionable. In our efforts to close the gap to precision medicine, we need data-driven models that unite the greatest insights from different sources. To efficiently unlock the knowledge hidden in the vast corpus of scientific literature, containing evidence gathered during more than 100 years of medical research, the Lensai Platform offers state-of-the-art natural language processing capabilities. It connects various data sources such as antibody libraries, structural libraries, and functional data. In-house, we have a proprietary data lake derived from multi-species genome reference sequencing, structural crystallography, and functional metadata, all to improve and enrich our global IPA analytical capabilities. For recent insights into the benefits of the Biostrand acquisition by IPA, read our quarterly update here.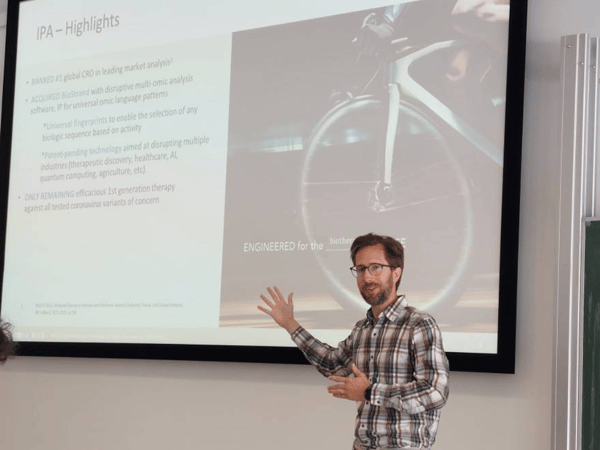 Presentation at Delft University of Technology
Team culture at BioStrand
As part of their assignment during this semester, students are learning to form effective teams. Therefore, I shared how we make our team work at BioStrand.
Using a SCRUM-based approach, we start every working day with a standup. This is where each person briefly discusses their progress and/or any issues faced. As a team, we discuss who can help to deblock issues, and when we spot an issue that needs further investigation, we plan meetings accordingly. About every 2 weeks we share demos of our work.
From Enterprise Architecture Frameworks and Governance Standards, we apply data science, architecture, and front-end engineering boards to help us tackle more substantial issues and discuss longer roadmaps. Along the way, sharing ideas and critical reflections are encouraged. The best ideas flourish when everyone feels engaged by the core mission and feels uninhibited to share their next best idea. Each great idea is used along the way to move closer to our goal: a fully integrated web of medical knowledge that allows for development of precise and personalized therapies. And, of course, our team isn't all work and no play. We do occasionally get a break from the worlds of med- and biotechnology. For example, this year's team-building activity had us all learning to cook Italian!
Our team-building activity in 2022
In conclusion
It was a great opportunity to share my initial startup experiences with such an enthusiastic group of soon-to-be entrepreneurs. Topics of particular interest for the students were how to create a value proposition within a MedTech company, the importance of data-driven research, and building strong teams to bring it all together. I hope sharing highlights of my experience at BioStrand served as inspiration and wish them good luck with all of their future endeavors.
Subscribe to our blog: