Notes from BioTechX 2022
Arnout Van Hyfte
12.21.2022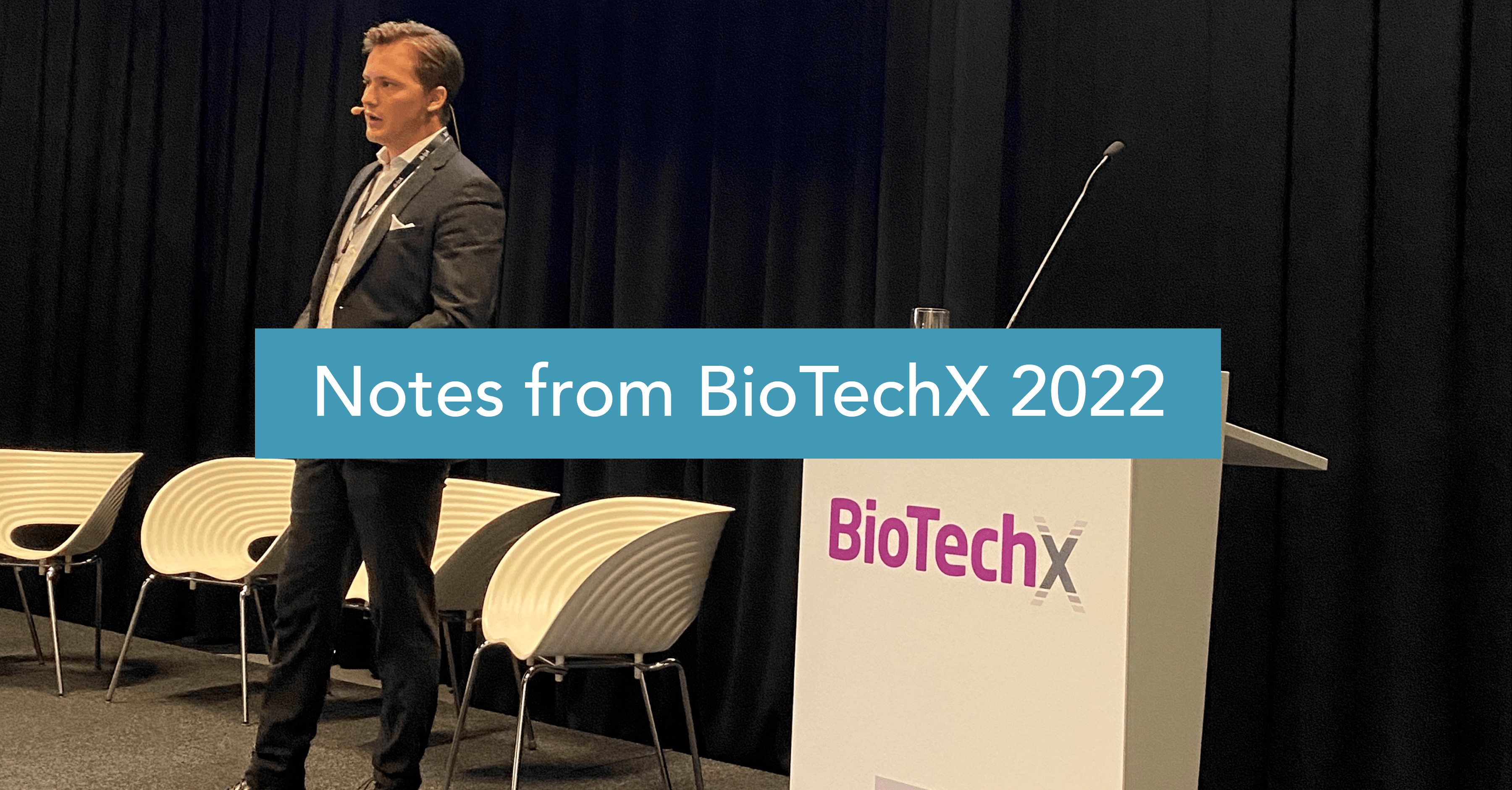 I recently had the privilege of representing the BioStrand Team at BioTechX, Europe's largest congress covering diagnostics, precision medicine, and digital transformation in pharmaceutical development and healthcare.
As an industry-leading biotherapeutic research company, it makes a lot of sense for us to attend what has evolved over the past four years into one of the premier conference spaces for innovative Bio-IT ventures. In addition, the event's whole data pipeline approach — "from bedside to bench and back to the clinic" — is reflective of our own "biosphere to patient" philosophy that drives us to create a single-source hub of biotherapeutic intelligence with best-in-class services, platforms, and integrated end-to-end technologies.
The agenda itself encompasses the entire pipeline of in-silico drug development, including many topics of professional interest to us, such as multiomics data management, and personalized medicine. As a result, it is a great platform to rub shoulders with leaders, end users, and decision-makers, from across different disciplines and nodes of the drug development value chain, and from biotech, pharma, startups, etc.
And the content is extremely sophisticated and high-level and focuses on the areas of biodata, genomics, cheminformatics, biostatistics, and pharma AI. This year it was great to see a tremendous diversity in the applications covered during the conference, which means that there was cutting-edge thought leadership content on how each stakeholder could leverage advanced technologies and intelligent analytics for enhanced value creation in their own spheres of interest.
There is currently a lot of interest in the critical role that advanced algorithmic technologies can play in the drug development value chain. The conference is, therefore, a great place for us to showcase our innovative solutions and explore how certain ideas, processes, and technologies are being deployed across different use cases and domains.
My presentation, featured in the Bioinformatics +In Silico R&D conference track, was titled Antibody discovery through an in-silico LENSai™ and illustrated how our proprietary in-silico and predictive analytics tools can significantly accelerate and augment candidate selection for antibody discovery. The key message was how embedding the LENSai Integrated Intelligence Platform into discovery processes enables biopharma companies to produce lead candidates that are functionally superior, and compatible with proprietary scaffolds and payloads. Our industry-leading and integrated sequence+function+structure approach is capable of analyzing information from multiple dimensions and sources with higher throughput to deliver panels of functionally diverse antibodies and sequences from multiple species, strains, immunization strategies, and discovery platforms.
Of course, apart from having first-hand access to all that high-level and cutting-edge content, there is the added perk of being able to network with the who's who of the global biological and life sciences research ecosystem. If collaboration is the future of our industry, then this is definitely the venue to have meaningful interactions with the best minds from a broad range of domains and functions including technologists, data scientists, bioinformaticians, cheminformaticians, clinicians, healthcare, and pharma companies.
To sum up, this was a great opportunity to highlight our own dynamic network of biological and artificial intelligence and technologies that enables our pharmaceutical partners to push the boundaries of antibody discovery. And it was also gratifying to witness firsthand that the topic of data-driven and data-centric biological research is finally getting the mainstream attention that it deserves. From a business perspective, the buy-in for a data-centric model of life sciences R&D seems to be firmly established. And that was perhaps inevitable, given that data production, from predictive models, real-world sources, etc., is increasing exponentially.
There are still, however, several challenges from an engineering or science perspective that still need to be addressed. There is an urgent need for advanced solutions and platforms that are capable of Integrating and cross-referencing the information dispersed across vast volumes of siloed heterogeneous data. But the industry as a whole seems to be embracing more advanced techniques and methodologies to address these challenges, the large-scale adoption of graph-based approaches being a particularly encouraging case in point.
All in all BioTechX 2022 was a great opportunity to share the stage with some of the most innovative thinkers, cutting-edge ideas, and disruptive technologies that are defining the future of our industry. And it also served as a validation of the strengths of our own HYFTTM-based approach that provides the innovative foundation for the integrated analysis of sequence, structure & function. When it comes to life sciences R&D, there will never be any shortage of data-related challenges. But I am glad to say that thanks to the team we have here at BioStrand, we seem to be well ahead of the curve in terms of making all biological data useful.
Subscribe to our blog: